Our History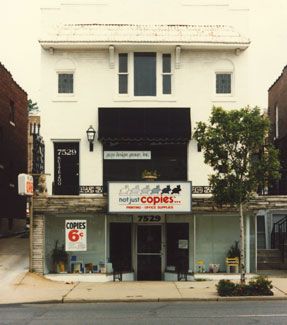 In 1970 a breakthrough in printing technology had recently been perfected that created an opportunity for an entire industry to emerge. This technological breakthrough, known in the offset printing trades as the "paper plate" replaced the traditional time consuming method of producing a film negative and metal plate for offset printing. Utilizing this new and innovative technology as the backbone for starting our business in March of 1970, we became one of the first real "Quick Printers" in the St. Louis area. Since our birth as Kwik Kopy Ltd., we've garnered success by embracing changes in digital technology and pursuing innovative entrepreneurial business practices.
Initially our niche was producing printing while you wait. Believe it or not at the time, this was a truly unique business model that was just in its infancy. In 1980, in order to expand, the current business philosophy was to establish and purvey quick printing in multiple locations across St. Louis. During this time, in order to reflect yet another technological breakthrough and create a new brand image, we changed our name to Not Just Copies. Not Just Copies was a retail concept that had 4 locations in which we produced quick printing, self serve copies, and carried a line of office supplies.
Once again in the 1990's as technology changed, our business model also changed. advances in digital computer technology required a more knowledgeable and higher caliber of skilled labor. To keep up with these computer advances also required the acquisition of very expensive capital assets that must be utilized at peak capacities. In order to do this effectively, we consolidated our satellite operations into our current "super center" location where we could best make use of our labor knowledge base and high tech capital equipment. In our opinion, the results have been terrific! In our present 8000 square foot location, we have the best people operating state of the art equipment delivering a superior quality product.
Some might say that much has changed over the years. In many cases that would be true. However, experience has shown us that the most important two factors in choosing a printing vendor, from our customers' point of view, are trust and confidence. We deeply appreciate that fact and are committed to earning your trust and confidence with every project we deliver.