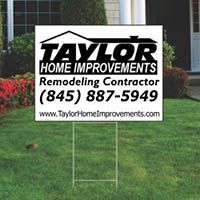 Yard Signs
If you're looking for a simple way to make big impact, Yard Signs can turn a front lawn into a front page ad! Perfect for real estate agents, lawn & home construction companies, outdoor event signage, political campaigns, business advertising and much more. With vibrant colors and eye-catching images, high-quality full color printing on lightweight, durable corrugated plastic (Coroplast), Yard Signs are a great way to promote your local business or event at an affordable price.
---
How can we help you?
Complete the form below or call as at 314.432.7774 today.